Gus Zamora, MD, FACOG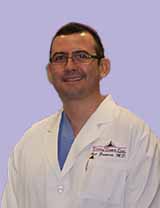 Dr. Zamora is a Fellow of the Amercian College of Obstetricians and Gynecology and is Board Certified by the American Board of Obstetrics and Gynecology.
Dr. Zamora practices general obstetrics and gynecology. He has special interest in minimal invasive gynecologic surgery, including vaginal, laparoscopic and robotic-assisted surgeries. He is trained in the Da Vinci Robotic System and also performs in-office procedures.
Dr. Zamora is a native from El Paso, TX, where he was born and raised. He graduated from the University of Texas at El Paso with Bachelor of Science and Master of Science degrees. He then moved to Houston, TX, to study medicine where he earned his medical degree in 2007 from The University of Texas Health Science Center at Houston. He was given the award for the Outstanding Medical Student in Obstetrics and Gynecology in 2007 by The Houston Gynecological & Obstetrical Society. In August 2011, Dr. Zamora completed his residency training in Obstetrics, Gynecology and Reproductive Sciences at The University of Texas Health Science Center at Memorial Hermann Hospital.
Upon completing his residency, Dr. Zamora was awarded the Chief Resident Achievement Award in Laparoscopy by the Society of Laparoendoscopic Surgeons. He joined the Victoria Women's Clinic in September 2011.
Dr. Zamora is fluent in Spanish. He practices at 110 Medical Drive, Suite 100, across from DeTar North Women and Children's Hospital. He has privileges at DeTar Navarro, DeTar Women and Children's Hospital and Citizens Medical Center.