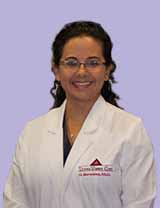 Dr. Dana M. Gonzalez is Board Certified in Obstetrics and Gynecology and joined Victoria Women's Clinic in 2006. Dr. Gonzalez grew up in the Rio Grande Valley near McAllen, TX. She graduated with honors from University of Texas Pan American in 1998 with a Bachelor of Science in Biology. She then obtained her Medical Degree at the University of Texas Medical Branch in Galveston and continued there to complete the residency program in Obstetrics and Gynecology in 2006.
Dr. Dana M. Gonzalez has been the recipient of the George T. Bryan Scholarship for Academic Excellence at UMTB in 1998. She also obtained the Margaret Manning Scholarship for Academic Achievement at UTMB in 1998-2002. In 2002 she received the Tung Van Dinh Outstanding Medical Student Teaching Award at UTMB and in 2004 she received the Suzanne Farebrother Memorial Award for Perseverance with Style in Ob/Gyn Residency at UTMB. She was also recently awarded the Pillars of Success Award at University of Texas Pan American.
Dr. Gonzalez is fluent in Spanish. She has special interest in vaginal surgery along with minimally invasive surgery such as laparoscopic procedures and robotic assisted surgery. Her practice is open to general gynecology, obstetrics, infertility and incontinence procedures. Dr. Gonzalez will also perform gynecologic procedures in office.
Dr. Gonzalez is located at 2705 Hospital Dr, Suite 300 in Citizens Specialty Building B. She has privileges at Citizens Medical Center, Detar Navarro and Detar Women and Children's Hospital.