Robert L. Hicks, MD, FACOG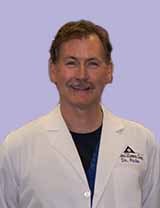 Dr. Hicks is a 1980 graduate of The University of Southern California, Los Angeles and a 1985 graduate of the University of California Davis School of Medicine. He completed his residency in OB-GYN at the Oregon Health Sciences University in 1989. Dr. Hicks became Board Certified in OB-GYN in 1991 and has been a Fellow of the American College of OB-GYN since 1993. Dr. Hicks has practiced in Victoria since 1994.
Dr. Hicks has served as Chairman of the Department of Obstetrics for DeTar Hospital, President of the Tri-County Medical Society and Chairman of the Department of Obstetrics for Citizens Medical Center.
He has taken a special interest in minimally invasive surgical techniques, including robotic surgery and laproscopic procedures. These allow women to return to normal activities in less time with minimal discomfort.
In addition, Dr. Hicks performs the Essure, an in-office sterilization procedure for those women who have completed their families.
Dr. Hicks is located at 2705 Hospital Dr, Suite 300 in Citizens Specialty Building B. He has privileges at Citizens Medical Center, Detar Navarro and Detar Women and Children's Hospital.