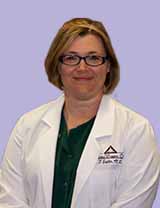 Dr. Tanya Seiler grew up around the country, but mainly in the Houston area. She had her undergraduate education at Princeton University, obtaining a degree in English literature. She graduate from medical school from the University of Texas Medical Branch at Galveston, where she also attended residency. She was awarded the Susan Fairbrother Memorial Award for perseverance with style in her second year, and was given the responsibility of being administrative Chief Resident in her fourth year of residency.
Dr. Seiler arrived in Victoria after graduating from residency in 2002. Her main interests are in minimally invasive surgery with both vaginal and laparoscopic technologies. She is also performing advanced vaginal techniques of bladder suspension. Her other interests include obstetrics, general gynecology, infertility and incontinence procedures. She is bilingual in medical Spanish.
Dr. Seiler's is located at 2705 Hospital Dr #300 in Citizens Specialty Building B. She has privileges at Citizens Medical Center, Detar Navarro and Detar Women and Children's Hospital.