Melissa Wilson, MD, FACOG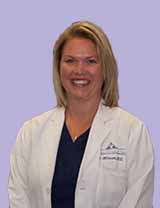 Dr. Melissa Wilson is a Board Certified in Obstetrics and Gynecology who joined the Victoria Women's Clinic in 2007. She was born and raised in Cuero, Texas where she graduated from Cuero High School in 1995. She then moved to Aggieland and graduated Magna Cum Laude in 1999 with a Bachelor of Science in Psychology from Texas A&M University. She obtained her Doctorate of Medicine in 2003 from the University of Texas Medical School in Houston, Texas. She continued her educational journey in the Texas Medical Center entering her residency program in Obstetrics and Gynecology at Memorial Hermann Hospital. She completed her training in 2007.
During her residency she received many honors including Outstanding First Year Resident Award and Outstanding Teaching award as a Second Year Resident. She was also awarded the Excellence in Reproductive Endocrinology and Infertility Award. She was elected and served as Administrative Chief Resident in 2006-2007.
Dr. Wilson has particular interest in minimally invasive surgery and is trained in DaVinci Robotics Surgery including Single-Site Hysterectomy. She also has special interest in non-incision procedures and in office procedures which allows for a less painful recovery and quicker return to normal activities. Her breadth of practice includes caring for women from adolescents to the elderly. Her practice includes general and high risk obstetrics, infertility, urogynecology and full range of other gynecologic services.
She returned to the Crossroads Area with her husband Douglas Wilson who is also from Cuero, Texas. Being from the area, Dr. Wilson intends to make Victoria her permanent home and is committed to developing lifelong relationships with her patients and being part of their birthing experience and gynecological care. In her free time Dr. Wilson enjoys traveling and spending time with her husband and her twin boys Cannon and Cooper.
Dr. Wilson practices at 110 Medical Drive, Suite 100 across the street from DeTar North Women and Children's Hospital. She is on staff at DeTar Navarro, DeTar North Women and Children's Hospital, and Citizens Medical Center.