Philip T. Suarez, MD, FACOG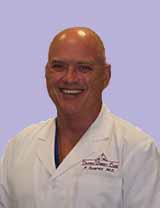 Dr. Philip Suarez was born in Canton, Ohio and studied at St. Louis University in St. Louis, Missouri, where he received both his Bachelor's degree in Chemistry and his Doctor of Medicine.
After completing his residency in Obstetrics and Gynecology at Akron City Hospital in Akron, Ohio, he served in the United States Air Force, where he was stationed at K.I. Sawyer, AFB, Michigan and then Scott AFB Medical Center, Belleville, Illinois. When he separated from the Air Force, he was Chief of Ob/Gyn at Scott AFB Medical Center.
After serving in the USAF he relocated to Victoria and joined the Victoria Women's Clinic in 1990.
During his time in Victoria, he has served as President of the Victoria-Goliad-Jackson Counties Medical Society, Chief of Ob/Gyn at DeTar Hospital and Chief of Staff of DeTar Hospital. Dr. Suarez currently sits on the Board of Directors of DeTar Hospital. He is the Medical Director of the Community Mother and Child Health Center and is the Director of Women's Services at DeTar Hospital.
Dr. Suarez's specialty interests include advanced robotic surgery, reproductive endocrinology and infertility and the provision of out-patient therapies that include the Essure sterilization procedure, endometrial ablation, and hysteroscopy.
He helped pioneer robotic surgery in the Victoria area with the introduction of the daVinci Robot to DeTar North's operating suite in 2010 and remains one of the leading robotic surgeons in the Victoria and South Texas areas. He has served as a proctor and case-observation surgeon for Intuitive, the manufacturers of the daVinci robot, teaching doctors robotic surgery skills. He also currently serves as an expert consultant to C-SATS reviewing videos of surgeons learning to perform robotic surgery.
He has been active at the Texas Medical Association as well representing the Victoria area as a Delegate to the House of Delegates since 1992. His other accomplishments at the TMA include past Chair of the Council on Communication, current member of the Texas Medicine Editorial Board and member of the Committee on Professional Liability.
Dr. Suarez is a Fellow of the American College of Obstetricians and Gynecologists and is Board Certified by the American Board of Obstetrics and Gynecology. He is also active in the local community having served on the Board of Directors of the Victoria YMCA for many years.
He is exceedingly proud of his long relationship with the Victoria Women's Clinic and adamantly believes that the Clinic strives to provide the very finest of care to women in the Crossroads area. This demand for excellence has been demonstrated time and time again through the years. Dr. Suarez and his partners at the Clinic are consistently on the cutting edge of health care technology and intend to maintain that excellence for many years to come.
Dr. Suarez practices at 110 Medical Drive, Suite 100, across from DeTar North Women and Children's Hospital. He has privileges at DeTar Navarro, DeTar Women and Children's Hospital and Citizens Medical Center.